Traditionally my final post of the challenge contains the Curtgeld. So here we go:
Here we have three figures the first of which is Thalia. She is a Zombicide: Black Plague survivor and I guess that any resemblance with Red Sonja is purely occasional: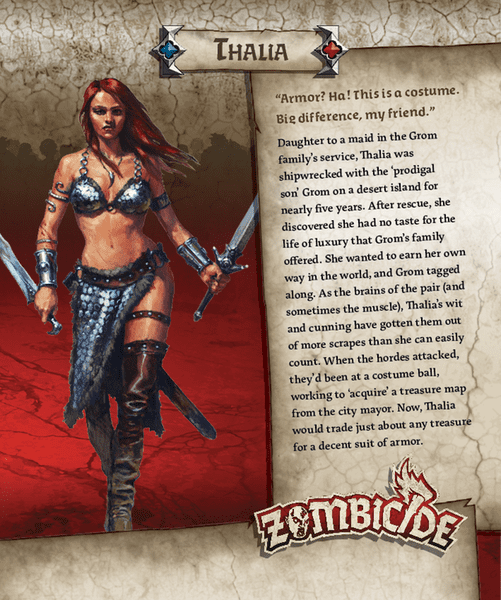 Anyway I acquired this special kickstarter exclusive figure a while ago with the idea in mind to build a barbarian themed survivor party. Unfortunately we haven't played too much Black Plague since but Thalia remained a figure I wanted to paint anyway.
After our ACW project was done (for the moment...) I thought she might fit into this challenge to give Lady Sarah another female figure to choose from.
As usual for CMon figures Thalia was of great detail and good casting quality. That board game plastic isn't easy to clean but fortunately the figure didn't have too much flashing. As usual I used a choice of Wargames Foundry and Vallejo paints.
On the first picture Thalia is accompanied by the to Uruks I want to give Curt as his well deserved entry fee:
They are from the oldish Games Workshop game but nevertheless nice and characterful figures that show some evil warriors on their way to Amon Hen to hunt down the Fellowship of the Ring.


Since I sold all my LotR figures years ago I asked a friend to have a look at his spares and luckily he discovered these two fellows and supplied them gladly.
Again I used mostly Vallejo paints to bring them to live and I hope you - especially Curt - like my humble work. It was pretty fiddly to work out the skin colour for those Isengard breeds but finally I decided to use a scheme I employed for African skin a while ago.


Finally I based them on 30mm bases and applied a badge displaying the donor and the occasion those figures were given.
Well, that's it then. More or less. My final words shall not be about figures and painting. In fact I want to address our busy and tireless host and his loyal minions:
Many thanks to all of you for making this challenge possible again!
It was a great pleasure to follow all the fine entries and it was an honour to be a humble part of it!
Now spring is coming and summer will follow. But in autumn at the latest I'll keep my eyes open for the roll call for the Xth painting challenge which I'm yearning for already.
Absolutely brilliant work Stefan. The Not-Red Sonja is terrific and I'm sure she is a brutal character to run in 'Black Plague' (a great game btw - one we actually liked more than Zombiecide). As to the Curtgeld, I can only give my deepest thanks - these two Uruks are wonderful and will have a place of honour amongst the growing warband. Of course the painting is up to your regular high standards, but I also want to give you the big thumbs-up on the bespoke labels - now, that's class! :)
Thanks again Stefan!
- Curt